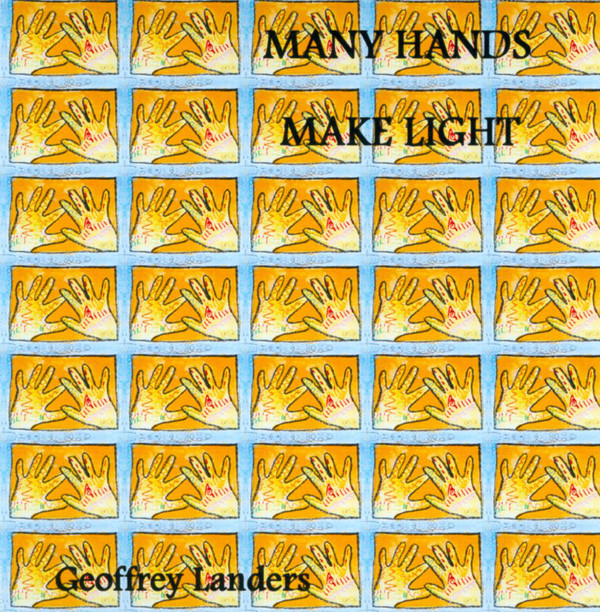 Guest post by Jonny Garciamons (NTS)
Many Hands Make Light, the last of four releases from the elusive Cauhaus Records, is an un-genrefiable conclusion to the mysterious solo discography of American artist Geoffrey Landers. With design appearing to be an independent family affair–jacket layout and cover artwork done by Kelley Jo and Benjamin Landers respectively–the 8-track album was released exclusively on CD in 1987. Written and recorded solely by Geoffrey Landers during what seems to have been the end of the Cauhaus era, this is the only of his three albums to credit no other collaborative efforts.
Being heavily involved in the Denver industrial/punk/new wave scene, Landers was inspired to create a recording studio "available to artists regardless of their financial circumstances." He thus opened The Packing House Studio in 1981 at the site of a former slaughterhouse in the Denver stockyards. The analog 8-track recording facility was active until 1984, with the studio releasing recordings from only a few credited artists and groups, most notably Allen Ginsberg. It was during this time that Landers released his first two records, Habitual Features & The Ever Decimal Pulse, as well as his only single, a 7" titled Breedlove.
Cauhaus Records, Landers's only label, was an "entertainment subsidiary" of Local Anesthetic Records. They appear to be the only two labels to have released music recorded at The Packing House, aside from a small cassette-only label named Endemic Music. Landers is credited with mixing on one of the releases on Local Anesthetic's releases, which suggests that Landers might have mixed for Local Anesthetic in exchange for production and handling of his imprint Cauhaus (the name of which seems like a nod to the studio's slaughterhouse history).
The silent years in Geoffrey's discography span from 1984 to 1987 — with '84 being the year in which output from the both The Packing House and Local Anesthetic seem to die down. This leaves me wondering what happened in those three years to prompt a final release from such a unique musical trajectory. Was this his final go at production after years running The Packing House? Does this release serve as a demo compilation of tracks from the studio's golden era? Did this record take three years to make? Why was it only released on CD only? The questions are infinite, but the result is truly a masterpiece.
New wave guitars, voice pads, resonant post-punk bass lines, hip swingin' drum loops–this thing has it all. The stand-out should-have-been-pop-hits come in "Camella" & "Say You'll Say So," the former of which is a unique DJ-friendly new wave infused boogie jam with a HUGE snare drum hit sure to light up any day party. The nostalgic feeling induced by tracks "Body Angel," "The Alluring Pause," "1 by 1," and "Carry Me Off" lead me to believe that Many Hands Make Light is in some way a tribute to the golden years of The Packing House, with the title serving as a humble thank you and tribute to all the many hands making light at the studio and label.
A very special thank you goes out to Flo for introducing me to Geoffrey's music earlier this year.
"It takes time, I — I know that you know I'll get to you"
Note that while this is long out of "print," Music From Memory is about to release a compilation of Landers's work which includes most of the tracks from Many Hands Make Light, and, if the track they've previewed on YouTube is any indication, features some gorgeous remastering. With the hope that you'll pre-order the compilation, I'll be removing this mp3 download link after a few days.