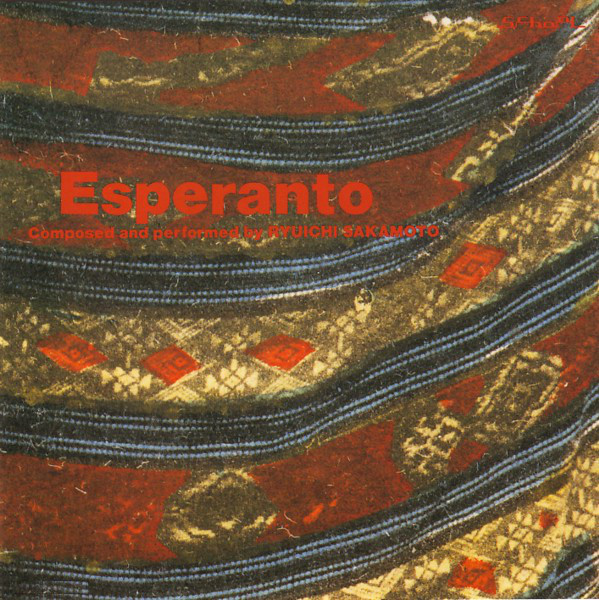 Guest post by Andy Beta (Twitter / IG)
Last year was brutal in almost every aspect, from the social to the international to the personal. Amid such rubble, there was a bit of a silver lining, in that I achieved a noteworthy professional achievement: interviewing Ryuichi Sakamoto for the Gray Lady. We sat one afternoon and sipped tea at a café near his West Village home and discussed his stunning new album, async, and also drifted onto some other topics. He talked about his recent interest in La Monte Young's Composition 1960 #5 as well as the works of Japanese sound artist Akio Suzuki. "One of his early pieces was a big concrete cube in a gallery and he pushed it so it made a sound of friction on the floor," Sakamoto enthused. "It's beauuuutiful music."
We even briefly touched on one of my favorite solo albums of his, 1985's Esperanto. Originally commissioned for a dance performance from New York-based choreographer Molissa Fenley, it's one of Sakamoto's earliest forays into sample-based music and it's as bewildering, playful, formidable and forward-looking as anything in his catalog. He told me that the computer he used to make the album was massive, holding his hands out wider than his body to show the size of the actual discs that stored mere seconds of sound. The album also features tasteful percussion work from Yas-Kaz and some guitar slashes courtesy of Arto Lindsay.
There's news that Light in the Attic will be reissuing an incredible amount of Japanese music over the next few years and while I'm sure that Sakamoto's work will receive some long overdue reassessment in the west (almost none of his groundbreaking 80's work is available for streaming, which is just ridiculous), I wonder if an album as far-out as Esperanto will be high on the priority list. That said, recently graphic designer and album illustrator Robert Beatty enthused about Sakamoto's work and this album in particular, which prompted a reply from Visible Cloaks' Spencer Doran:
esperanto fun fact: all the tracks are actually 15 minutes long. they recorded it before was finished and didn't know how long each dance section needed to be edited to so they intentionally overshot the length of each piece. the tapes still exist!
Here's hoping that full 15-minute immersions into pieces like "A Rain Song" and "A Carved Stone" might re-emerge one day. Until then, enjoy for a limited time this visionary work from the master.