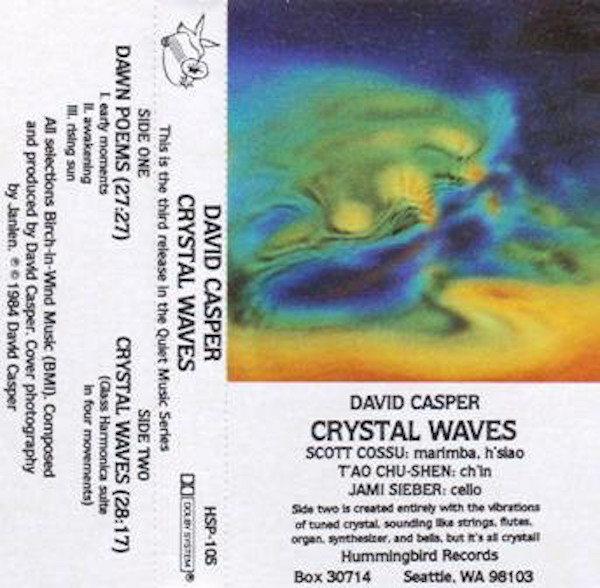 Another gem from private issue new age icon David Casper, one of the later follow-ups to his excellent Tantra-La. Like that record, Crystal Waves manages to blend a laundry list of instruments (cello, played by Jami Sieber; marimba, played by Scott Cossu; ch'in [yuequin, aka moon zither, played by T'ao Chu-Chen], h'siao [Chinese bamboo flute], ocarina, crystallophone) into something that never sounds at all busy. That unhurried spaciousness is even moreso the case for this record than for Tantra-La. While a very careful and thorough use of acoustic environment brings to mind open landscapes rather than large rooms, and while there's definitely some highly detailed multi-tracking going on, the precision and directness of the sounds seem to belie their numbers–which is to say, Crystal Waves masquerades as a very effective minimalist line drawing until you stare at it for awhile and realize it's a full-color impressionist oil painting. It's rendered in tones that are so delicate, translucent even, that you might not realize right away that they're there.
This is particularly the case on the second side of the cassette, which, for our purposes, is the "Crystal Waves I-IV" tracks 4-7. It's composed entirely of tuned crystal glasses:
Each glass was played individually with meditative attention and recorded, grouped, and re-recorded in a lengthy blending process. In order to attain a broad spectrum of sound from a simple source, tape speed, equalization, and harmonic balance were changed to produce sounds reminiscent of bass and cello, flutes and horns, organs, bells and gongs, and other sounds suggestive of electronic synthesis. Sometimes as many as thirty glasses may be heard at once, each with its own pulsation and timbre, produced acoustically by finger on glass.
The depth of field and texture Casper achieves with glass alone is remarkable, as is his gift with drawing heat out of sounds that might otherwise be predisposed towards frostiness. He's just as skilled with his treatment of strings as he is with glasses: in spite of the wide openness of these songs, there's a direct suggestion of reassuring warmth that I find myself feeding on over and over in the wintertime. I also just realized that it's been a year almost to the day since I posted Tantra-La, so clearly these records are seasonally significant to me. I hope you love this as much as I do.