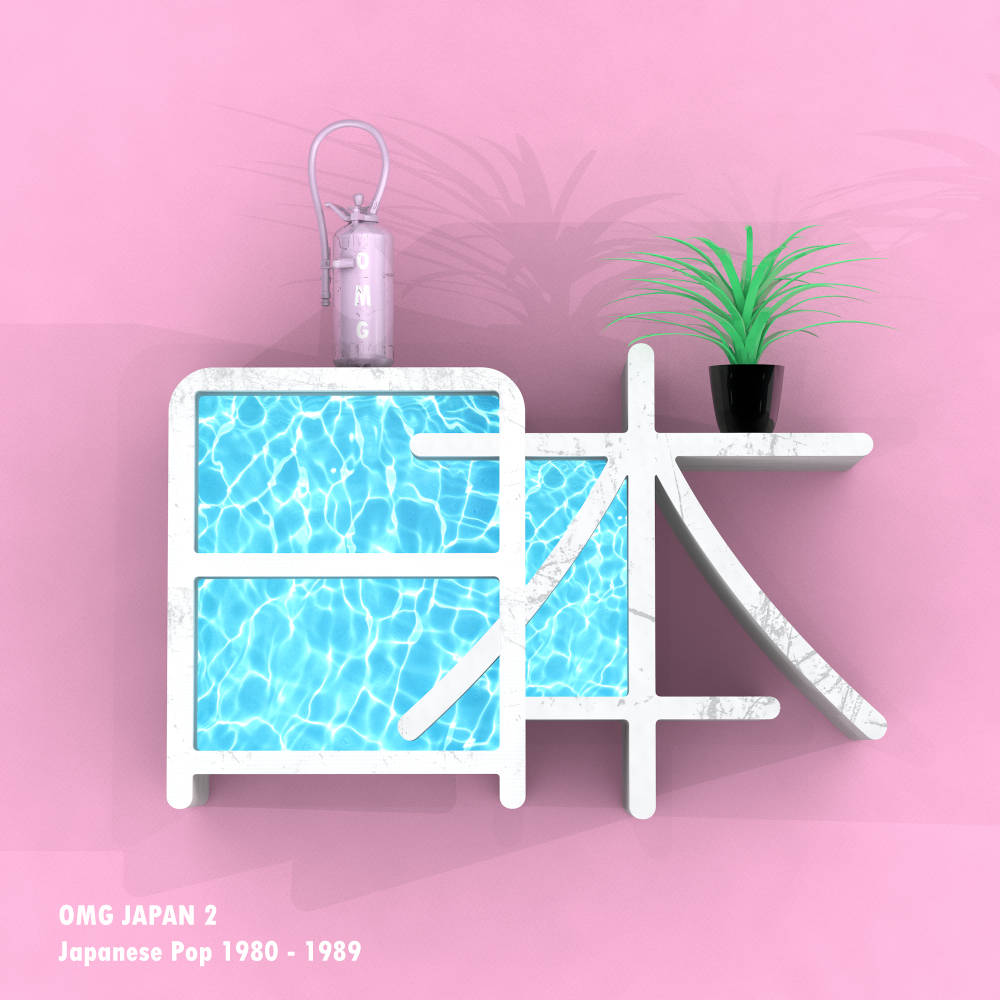 cover art by Jeff Velker (SC / Twitter)
I'm very pleased to finally share Volume 2 of the OMG Japan mix via Self-Titled Mag.
That proclivity towards inventive genre splicing is all over this mix, actually, perhaps most noticeably as a reggae influence in three very different incarnations. First, Akiko Yano's steel drum-flecked synth-reggae cupcake "Ashkenazy Who?" is replete with gleefully gnashed vocals, twisted and slung in the mouth as if to mimic warped synth pulses. Next, Junko Yagami leans even more explicitly into reggae fusion on "ジョハナスバーグ" ("Zyohanasubargu," i.e. a Romanization of the Japanese pronunciation of Johannesburg), a thick synth-funk ode to a global love for reggae, winking with drum machines and synthetic accordian. Last is Pecqre's "Kylyln," a spaced-out dub rendition of a song originally written by Ryuichi Sakamoto for Kazumi Watanabe, which comes from one of the most slept-on records in the Japanese canon. It was largely recorded in Jamaica at Channel One and Tuff Gong Studio on a trip organized by Bob Marley himself, as the story goes, at the urging of drummer and diehard reggae fan Masahito Hashido (aka Pecqre). It's an incredible lineup: between Aston Barrett and Robbie Shakespeare on bass, Carly Barrett and Sly Dunbar on percussion, Minako Yoshida's lead vocals, and Marcia Griffiths and Judy Mowatt singing back-up, one can only dream of being a fly on the wall during those sessions.
Read the rest HERE, and if you like it, you can download it HERE.
Tracklisting:
1. Tabo's Project – Feel
2. Imitation – Narcisa
3. Jimmy Murakawa – Down? Down, Down! / Stay Outta My World
4. Zabadak – 蝶
5. Akiko Yano – Ashkenazy Who?
6. Junko Ohashi – I Love You So
7. Junko Yagami – Zyohanasubargu
8. Tatsuro Yamashita – Love Talkin' (Honey It's You)
9. Yukihiro Takahashi – Konchu-Ki
10. Sandii & The Sunsetz – The Serious Game
11. Pizzicato V – The 59th Street Bridge Song (Feelin' Groovy)
12. Pecqre – Kylyn
13. Joe Hisaishi – The Winter Requiem
14. dip in the pool – Rabo Del Sol
15. Masami Tsuchiya – Never Mind
16. Mami Koyama – Love Song
17. Toshifumi Hinata – サラズ・クライム
18. Ayuo Takahashi ft. Koharu Kisagari – 流れる
19. Hiroko Yakushimaru – 透明なチューリップ (Transparent Tulip)