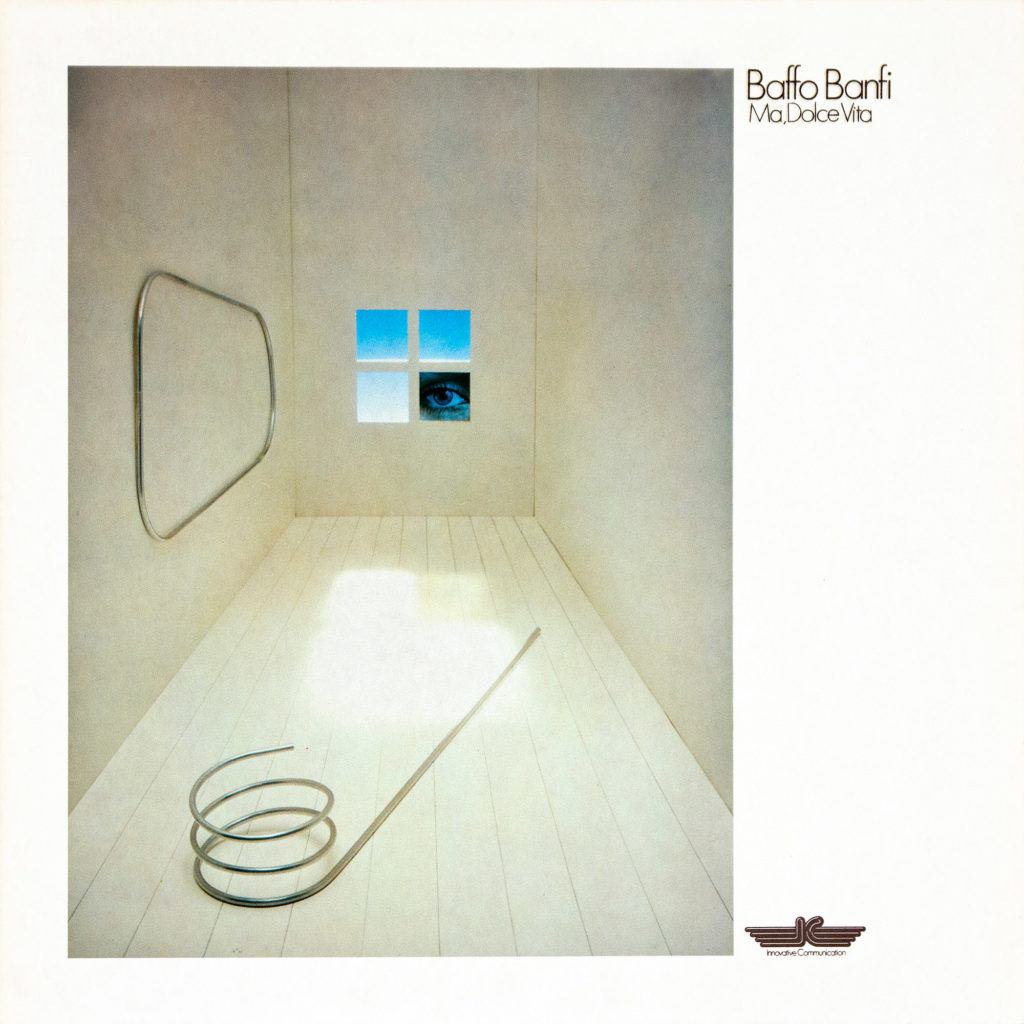 I recently found myself in line at an airport Starbucks, earbuds pumping the second and standout track on Giuseppe "Baffo" Banfi's excellent 1979 album, Ma, Dolce Vita. The scene was transformed. I watched as headset-clad baristas twirled in a choreographed dance of whipped cream and chocolate sauce, gleeful panache emerging in their faces. Glowing QR codes passed under holstered laserbeam scanners. Boxes of soy milk changed hands in time with symphonic Moog crescendos, and petulant children spun on Samsonite between rounds of stereophonic cabasas. Such is the power of great music: to transform the ordinary into the sublime. I'm no expert in prog, Berlin School, Italian Library, or anything that qualifies me to write about this record. I just like it.
Banfi was a member of the hallowed Biglietto per l'Inferno ("Ticket to Hell"). As the story goes,
Klaus Schulze
took an interest, but when Trident folded in 1975, leaving their second album in limbo, the group disbanded. Banfi went on to release several solo albums on Schulze's
Innovative Communication label
.
Ma, Dolce Vita
, the entirety of which is reprised on the compilation
Sound of Southern Sunsets
, is his second, and I've been able to find out very little about it. The cover suggests an Archizoom kiosk, half a Joe Colombo or perhaps something made by the German artist Rebecca Horn. (Apparently it's a photo by Ezio Geneletti.) It is an album that very quickly outstrips its hazy psychedelic trappings.
Dolce Vita
opens slowly with "Oye Cosmos Va," which, like much electronic music of its era, would not feel out of place in a Carl Sagan special. Its plodding, trippy synthesizer loops quickly give way to the more expansive and exuberant sound of "Sweet Summer on Planet Venus." A driving beat propels this airy, probing melody through multiple sonic landscapes. It's a jubilant effusion of interleaved percussive elements that resolves quickly as the gas runs out on each layer. It will always leave me wanting more. "Vino, Donne E Una Tastiera" picks up with a syrupy, rattlesnake swagger, suggesting the dim saloon of a spaghetti western. "Astralunato" employs a contrapuntal bassoon-like sound that I've only heard used to such great effect by the British armchair duo
Woo
. It gives the song a sort of self-satisfied, delirious schmaltz that ambles along at its own pace. The album's final track, loosely, "Fantasy of an Unknown Planet," is a dark, arpeggiated voyage, accompanied by tentative high-hat and ersatz flute. 18 minutes in length, it builds steadily to a climactic bass line dropout and melodic redoubling.
If last year's Blade Runner sequel is a testament to the enduring sound of the synthesizer, then Ma, Dolce Vita, like the original film, reminds us that the 1970s still sound like the future.