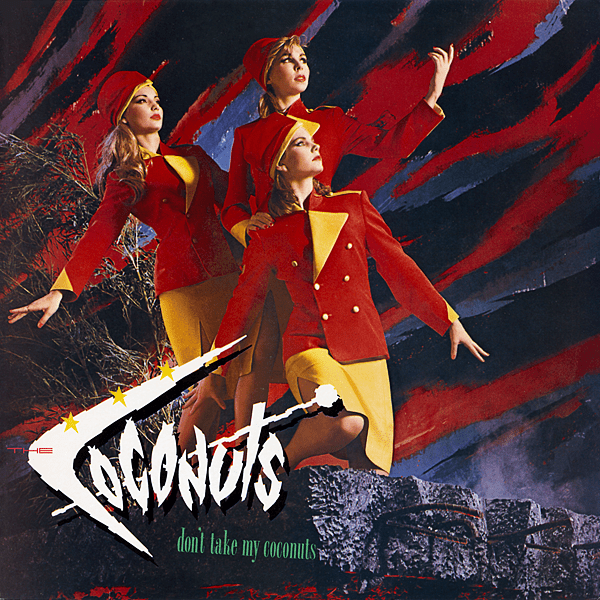 The Coconuts were an offshoot project of Kid Creole and the Coconuts, the brainchild of August Darnell, a Bronx-born composer who's an absolute genius with big band sounds, Latin jazz textures, and cuttingly clever lyrics. The Coconuts were initially the trio of backing singers in Kid Creole & The Coconuts, but went on to release two full-lengths on their own, with production from Darnell (who was married to Adriana Kaegi, member of The Coconuts and co-founder of the original Kid Creole lineup. Less relatedly, I just excitedly realized that Fonda Rae was at one point a member of the Kid Creole band).
Don't Take My Coconuts is killer song writing, fully fledged arrangements, and charismatic vocals together in full force. To be clear, the ladies of The Coconuts (Kaegi, Cheryl Poirier, and Taryn Hagey) were creative powerhouses in their own right–their vocal delivery is razor sharp and manages to be seductive even while covering "If I Only Had a Brain" (this is my second Wizard of Oz-related post this week, so make of that what you will). They were incredibly strong performers, able to stay in impeccable character while flawlessly executing fairly complicated choreography in perfect unison. The video for "Did You Have To Love Me Like You Did?" is a showcase of amazing outfits, spot-on choreo, and some, uh, monkeys–it's embed disabled, so it's different from the video previewed below, but you can watch it in full here.
I still haven't found any clear origin story for "Ticket To The Tropics" (no relation to the Gerard Joling song, as far as I can tell), which has a different melody but the same lyrics as the Cristina track of the same name. I can't find detailed credits for either of the two songs, but given the overlap in sensibilities I wouldn't be surprised if there was some personnel cross-pollination going on in there somewhere. Enjoy!