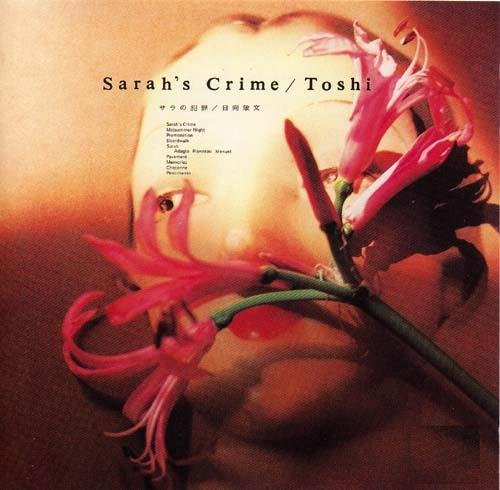 Guest post by Ian Hinton-Smith
Difficult to put into words. How to describe
Sarah's Crime
? Smooth, evocative, dreamy, and deeply romantic. Perfect solo listening. Much like Soichiro Suzuki of World Standard on later albums like
Canon
, I'd dub
Toshifumi Hinata
a master of thoughtful, gentle composition.
While there's very little information available about his background, it's known that Hinata spent time in Wisconsin, Minnesota, Massachusetts and Surrey, South of England. Lazy English Sundays have certainly been captured on "Premonition." You can almost hear his cream tea and plate of buttered scones rattling on the piano as he plays, looking out of a window onto the lawn. "Pavement," with its pastoral field recordings, rain, thunder, and church bells, might also tell of his time in Surrey. Like those two tracks, so the rest of Sarah's Crime has a cinematic quality that evokes a feeling, a place, even a storyline.
"Boardwalk" is a jazzy little moocher: sandy toes, seagulls in the South of France, and a sweet melodica/accordian duet. More than a hint of Pink Floyd's "St. Tropez" but with a winking ballroom grandeur. The remarkable opening title track instantly conjures up a yacht slipping towards the horizon as the credits roll. Swells of violin filling the sails, synth pads rolling in and out like ocean waves, with perfectly prim drum machine drama. Like much of the record, it's unabashedly romantic, but stops just short of saccharine. Tasteful as ever.
"Memories" feels like a take on the Korgis' "Everybody's Gotta Learn Sometime." Plaintive piano chords, reverb-drenched harmonica, and a touch of Angelo Badalementi mystery transport you to a swaying cornfield. The standout track, however, which is alone worth the price of admission, is "Chaconne." Vaporous whisps of slow curving chords pinned down by a Philip Glass/John Carpenter style repetitive chiming bell loop. Just as you're drifting away on it (I often have this on my sleep playlists), it spikes up a notch, almost into drama, but the heartrate remains relaxed and sleep is only moments away. I adore this track. Four years of hearing it nearly every night and I never tire of it.
Something worth mentioning about this album, and Hinata's style generally, is that his use of melody and phrasing over sublime chord patterns is like having someone reading aloud to you. Chord changes set up a scene while melodies conjure up slow but meaningful narratives. If An Artist Of The Floating World is ever made into a movie, the soundtrack is ready to go.
Finally, I'll leave this review, as Hinata does, on closing track "Pentimento" with a question mark: does a failed romance amount to nothing? Or does the second half, where happy memories appear to come drifting back in passionate swells mean that it was worth it even if it's over? Sit by the window, listen, and try to figure it out. I'm still trying. It's alright not knowing sometimes.